Casino Capitals of the World: 5 Most Luxurious Casino Resorts in Macau
Looking for luxury? You've come to the right place. If you want to plan a trip that combines your love of no deposit casino games, such as Live Blackjack, with awe-inspiring culture, Macau fits the bill. The infamous island is home to many a grand casino, but there's more to the place than meets the eye. When you're jetting off half-way across the world, you want the whole package. The grand hotel, incredible cuisine, and a more-than-comfortable bed to sleep in. You'll find all of this, plus a whole lot more, in the casino resorts of Macau. We've selected our top five - read on to find out why they made the cut.
1. Wynn Palace
MacauAv. da Nave Desportiva, MO Avenida Da Nave Desportiva Cotai
Rating: 10/10
Price Per Night: From £159
East of the famous Cotai Strip, stands arguably the most impressive casino hotel in all of Macau. The construction cost US$4 billion, and in our opinion, it was money well spent. The sleek structure towers over the casino strip, with elegant water features erupting across a man-made lake equivalent to 25 football pitches in size. It's what's inside of this 5 star hotel that really matters, however. Housing sculptures, artwork and numerous gourmet restaurants, Wynn Palace sets the standard for casino resorts, not only in Macau, but across the globe.
If you're looking for a taste of Chinese culture, you'll find it here. The decor throughout the hotel, particularly in the high-end eateries, boasts grandeur and Oriental opulence. Winner of six Forbes travel guide 5 star awards, Wynn Palace more than meets the mark for a luxurious stay in the Asian casino capital.
Food & Drink
When it comes to fine dining, Wynn Palace caters to all tastes. From sushi to steak, you'll encounter all kinds of equally delicious cuisines to feast on during your stay. Tuck into top-quality steak and seafood at the decedent SW restaurant, or grab a bowl of steaming hot ramen from the menu of Michelin-starred chef Yuki Onishi. The jewel in Wynn Palace's culinary crown, however, is the Wing Lei Palace. The place to be for Cantonese fine-dining, take a bite into Southeastern China's rich delicacies, from dim sum to their signature Peking duck. Entered via a floral garden, you'll wander through 2880 roses, 720 hydrangeas, 1680 orchids and five other varieties of exotic flower. These beautiful blooms set the scene for a night of luxurious fine dining, and the fountain views once seated are unparalleled. The Wing Lei Palace spans three tiers, all of which are decked out in gold and jewel-toned decor, creating the ultimate dining room for those in search of luxury.
Shopping
When you're not eating, hitting the casino or relaxing in your hotel room, the Wynn Esplanade provides a high-end shopping experience. Here you'll find a selection of 50 of the world's most iconic designer brands, which includes Chanel, Prada, Cartier and Gucci. Splash the cash or window shop, the choice is yours, but Wynn Palace's shopping scene is not to be missed. Every indulgence is satisfied here, with a carefully curated selection of shops showcasing luxury labels from the likes of Milan and Paris.
Other Stand-Out Features
Performance Lake

Skycab

Art gallery
2. The Venetian Macao
s/n Estrada da Baia de Nossa Senhora da Esperanca, Macau
Rating: 9/10
Price Per Night: From £139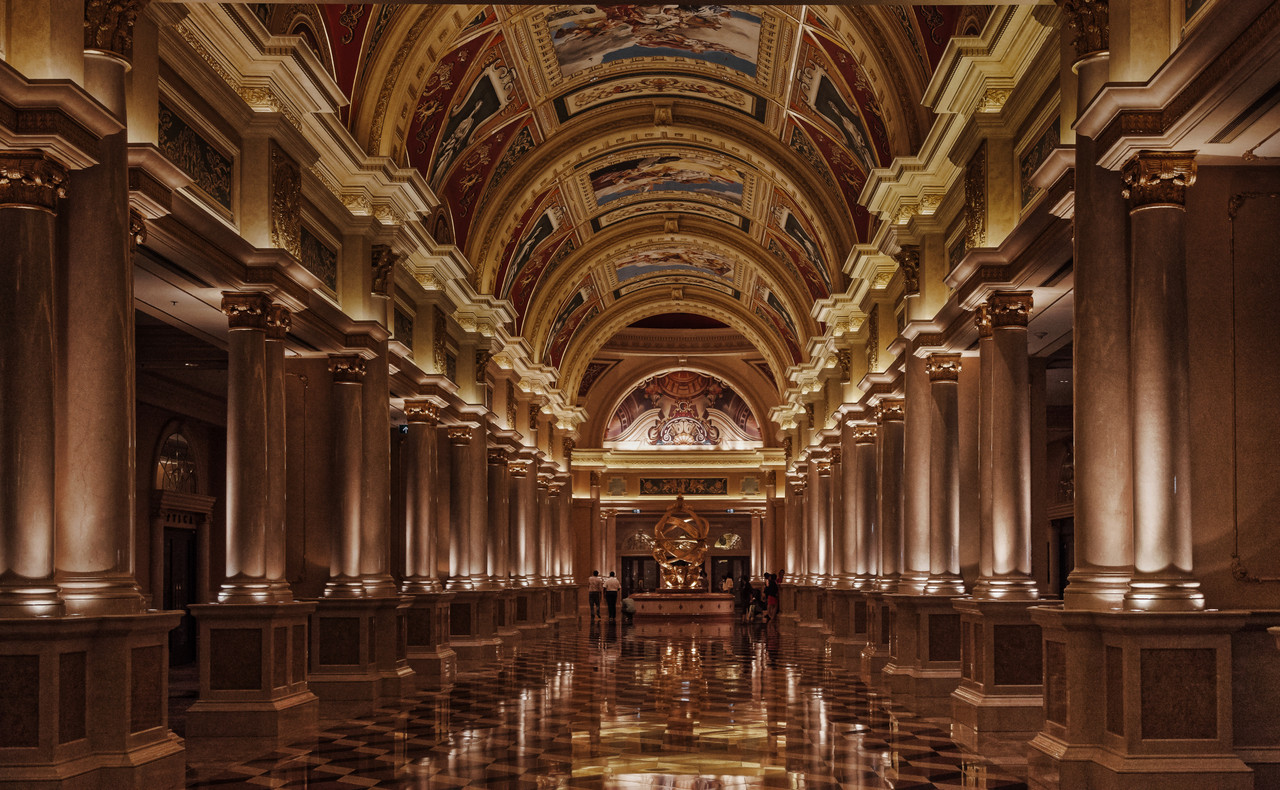 One of the most famous casino hotels on the Cotai strip is the Venetian Macao - yes, that name's familiar. You'll find also find the Venetian in Las Vegas, but don't be fooled into thinking its Asian counterpart is any less grand. The Venetian Macao is the 7th biggest building in the world according to floor area, containing plush suites, hundreds of casino games, and more across 39 storeys. Directly opposite City of Dreams, Macau's number one leisure destination, this luxurious casino resort is ideally situated for a taste of the city's nightlife. However, travellers needn't venture outside of the Venetian's walls, as it plays host to many a star for electrifying live concerts and entertaining shows. Don your best sporting attire and play a spot of mini golf, or catch a sporting event at the Contai Arena. Of course, it'd be crazy not to take a ride in one of the gondolas which made this hotel franchise so iconic, which is the perfect way to take some time out from the hustle and bustle of the city.
Food & Drink
Variety is the spice of life, and variety's exactly what you'll get when dining at the Venetian Macao. Tantalise your tastebuds with the very best of world cuisine, from Japanese delights to Italian staples. For top-draw dining take a seat one of the Venetian's signature establishments, such as Michelin-starred Golden Peacock. Highly regarded among food critics and guests alike, this Far Eastern eatery has soared in popularity since opening its doors to diners in 2013. You'll find tasty Indian cuisine on the menu, covering all regions of the country. Savour fragrant biryani or devour rich curry dishes, whilst you enjoy the vibrant dining space, ornate china and ambient lighting.
Shopping
The Venetian Macao might just be the ultimate shopping destination in the casino capital. The Sands Shoppes is the largest indoor shopping centre in the whole of Macau, so you know you're going to get an incredible retail experience here. Better, still, this shopping plaza holds 850 duty free outlets. Browse the latest trends and the finest goods from the world's most sought-after designers at the Venetain Macau.
Other Stand-Out Features
Gondola rides

The painted sky

Biggest casino in the world
3. Four Seasons Hotel Macao
Estrada da Baia de Nossa Senhora da Esperanca, Macau
Rating: 8/10
Price Per Night: From £140
The Four Seasons is a staple of luxury across the globe, so of course this hotel made our list. There's a serene, oasis-like feel to the resort, which boasts five outdoor pools - two standard, one lagoon and two for children. Whilst you're taking a dip or soaking up the sun, you'll be surrounded by a group of cabanas which you can make use of whilst taking time out to relax. Indoors, you'll be greeted by a grand lobby with a sweeping double staircase - what else says opulence like a luxurious lobby? Antique furniture, sparkling chandeliers and hand-painted silks make for a truly exclusive destination.
There's plenty to do, with one half of the hotel housing a well-stocked (to say the very least) shopping mall, and the other a casino. The Plaza Casino offers a world-class service as well as decadent interior for the perfect balance between European style and Asian opulence.
Food & Drink
Enjoy a more personal dining experience in the Presidential suite, in which you can learn about the history of Cognac as part of the Louis XIII Suite Experience. Brand ambassador Calvin Chen will teach you all you need to know, before you enjoy a gourmet meal with up to five guests. If this doesn't appeal, the Michelin-starred Zi Yat Heen sure will. Enjoy some classic Cantonese dishes and dim sum, all creatively executed to offer diners something special.
Shopping
Three floors of designer brands await eager shoppers seeking some retail therapy. If international brands aren't to your taste, you can also find small boutiques. The Grand Canal Shoppes at the Venetian are connected to the Four Seasons by a covered walkway, for easy access to even more shops.
Other Stand-Out Features
Stunning suites
14 spa treatment rooms
State-of-the-art fitness equipment
4. Grand Lisboa
2-4 Av. de Lisboa, Macau
Rating: 7/10
Price Per Night: From £137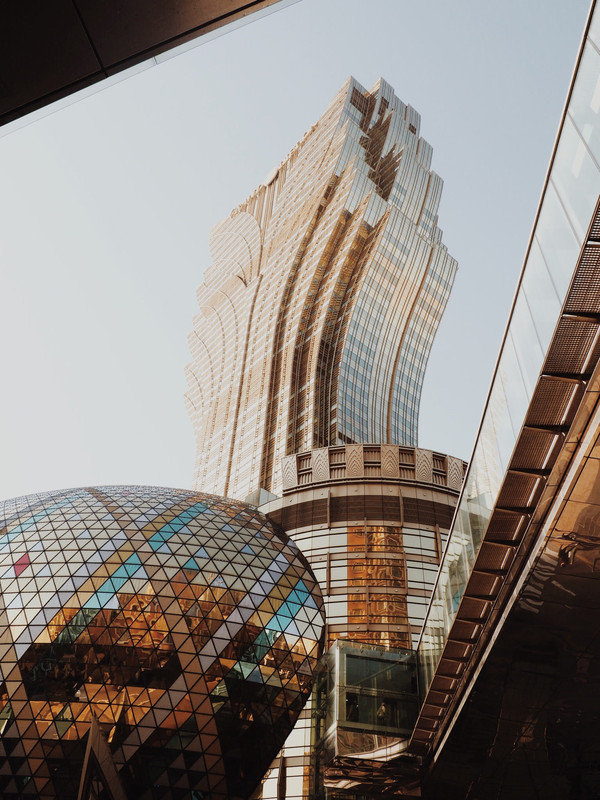 One of Macau's quirkier options, the Grand Lisboa effortlessly combines a wacky sense of style with luxurious decor. There's definitely an element of circus in the aesthetics of the hotel, encased within a golden exterior which resembles a bunch of flowers. Expect intense colour palettes, bold prints and vibrant lighting throughout the building, in which you'll find a two tier spa, a swimming pool and multiple high-end eateries. The public areas are packed with people, from guests to observers, which tells you all you need to know about the Grand Lisboa: it's a stunning spectacle.
Food & Drink
When it comes to fine dining at the Grand Lisboa, you'll be spoilt for choice. A must-visit, however, is the first and only Chinese restaurant in Macau to be awarded three Michelin stars for three consecutive years by the Michelin Guide Hong Kong & Macau. This premium establishment is the 8 Restaurant. Covered with China's "lucky" number, you can't mistake this high-class joint. For a unique experience which packs plenty of flavour, choose from over 40 types of dim sum.
Other Stand-Out Features
Le Salon

The Spa

Tour service
5. Altira Macau
MacauAv. de Kwong Tung, MO Altira
Rating: 7/10
Price Per Night: From £111
Altira's Chinese name is Xin Hao Feng, which translates to 'cutting edge'. It's a fitting name for one of Macau's most exclusive casino resorts. Speaking of the Altira Macau casino, it's predominantly aimed at high-rollers, but don't think for a second that all guests are not treated with an equal amount of respect and attention. This hotel oozes contemporary luxury, with sleek, modern furniture and atmospheric lighting. Suites are nothing less than exceptional, and come with jacuzzi baths and and large windows which offer incredible views of the city skyline. You don't have to stay in your room to take in the breathtaking sight of the Macau Peninsula, however. Take a dip in the impressive indoor infinity pool, which just so happens to be in the top 10 best swimming pools in the world according to Forbes. Featuring a futuristic design, you may feel like you're stepping onto a spacecraft rather than into a pool. Submerge yourself below the water's surface as your ears are flooded with music - plus, the views as you float on by are amazing.
Food & Drink
Looking for a slap up meal? Private dining is what Altira does best. Yi Pavillion seats up to 15 guests and who can enjoy the full attention of their own chef for the evening. Make the most of a night in the casino capital with an intimate dining experience, as you get comfortable in the private lounge on the tenth floor of the hotel. When you take your seat at the table, you'll not only be feasting on delicious culinary delights but on the spectacular 270° panoramic view, too. You could also stop by the 38 lounge and take in the views from the terrace whilst enjoying a live music performance.
Other Stand-Out Features
Award-winning spa

Pool juice & smoothie bar

Dedicated events planners
21.co.uk - a Premium Online Casino Experience
If you're staying on home soil for the time being, you may be missing out on stunning city views, infinity pools and gondola rides, but you never have to sacrifice a world-class gaming experience thanks to our online casino. From slots to Live Casino, you're just a click or tap away from your favourite games. Go up against the dealer in Live Blackjack or place a chip on your lucky number in Live Roulette, the casino floor awaits - no matter where you happen to be.
£10 FREE - No Deposit Required
Full T&Cs apply. No deposit required & new players only. £10 paid as bonus funds. Claim within 3 days of registration & 7 day expiry. 50x wagering target. £50 max win/withdrawal from bonus. Only bonus stakes qualify & wagering contributions vary.
Unlock up to £50 Cash When You Play Live Casino Games - on TWO Deposits
Full T&Cs apply. New players only across two deposits. Cash rewards have 7 days from registration to opt-in from "My Promotions" page & each with 7 days wagering. Deposit £10, £25 or £50 & wager 75x. Only cash stakes on live games qualify & wagering contributions vary.